My Role

Lead Researcher
Visual Designer

My Contributions

• Created a tool to capture client feedback about the old website
• Developed a survey to gather data about users' needs and preferences for the new site
• Analyzed data and translated findings into design objectives
• Built a new visual language and redesigned the website
• Collaborated with a developer to produce the new site

Huckleberry House identified several drawbacks to their old website and asked us to create a new website to address these issues. Huck House said the navigation menu confused some users, important features weren't prominent enough, and the overall visual styles were inconsistent and outdated.

Due to Covid-19 restrictions during the early stages of the project, our team was unable to meet face-to-face with Huck House to discuss design objectives. To empower the client to provide good design direction, I created an interactive PDF tool to enable them to analyze, document, and share via email, their design goals for every page on the site.

To uncover what users needed from the website, I developed a survey that was distributed to Huck House staff, board members, and clients. The survey captured quantitative and qualitative data that lead to key insights for the design process.

My analysis of research data illuminated three primary opportunities to build a better website: (1) consolidate content to streamline navigation; (2) bring Huck House's story to the forefront; and (3) modernize the visual design.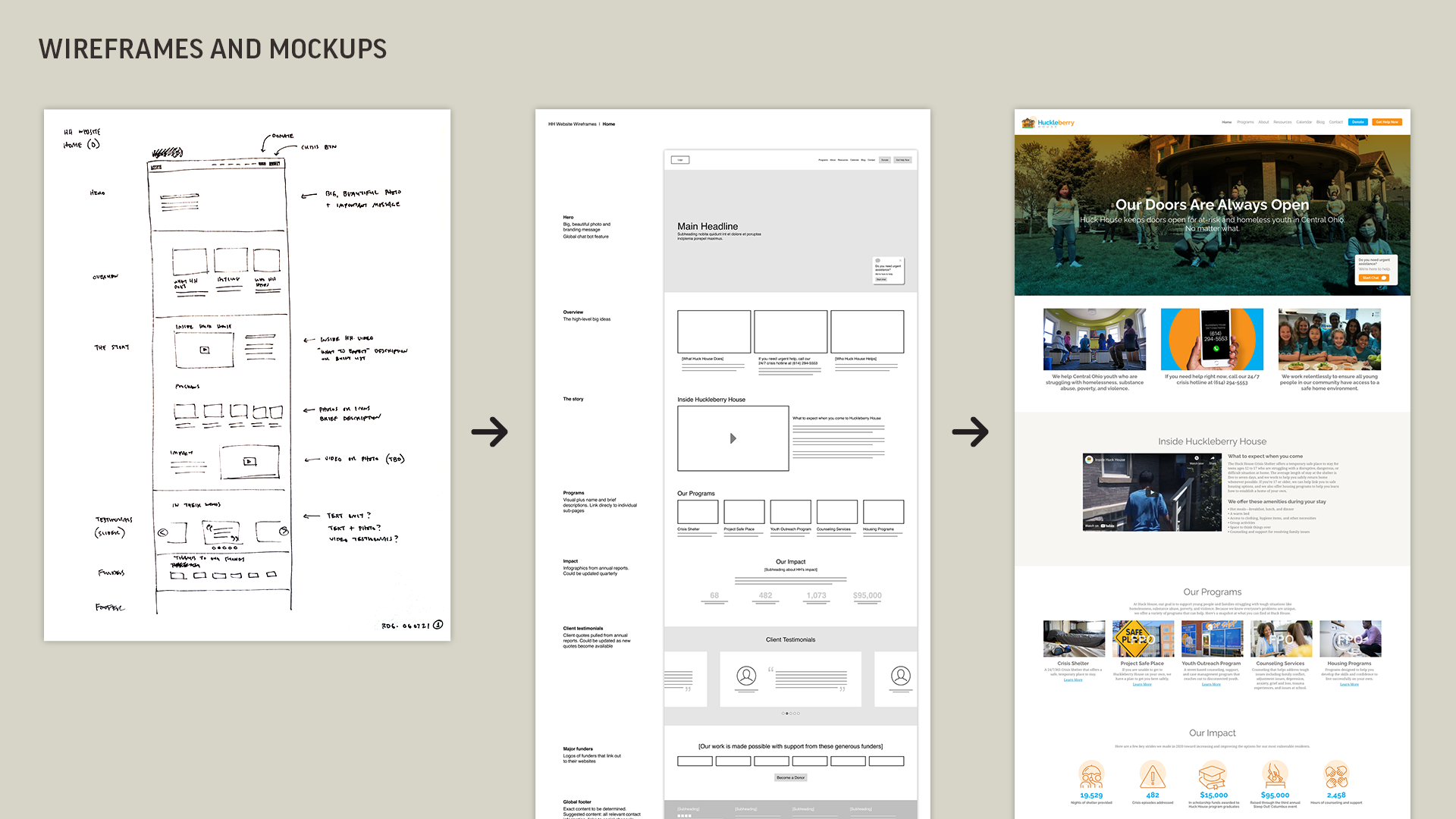 In addition to spearheading the project's research efforts, I was also responsible for redesigning the site layout, user interface, and overall visual design.

I translated the client's direction and other research insights into wireframes and mockups, gaining the client's approval at each step of the process.

I collaborated with Formation Studio's project manager and web developer to produce the new website in November 2020.
We made several improvements to the website, including creating a new visual language, including more of Huck House's existing media to tell their story, and making the site easier to navigate.

The Huckleberry House website before (left) and after (right) the redesign.

The Formation Studio Team
Alan Jazak: Design Director

Elizabeth McQuade: Project Manager
Matt Rhodes: Web Developer